Vezi cu ce-a luat McCann primul Leu in 2014. Publicis Romania, a doua agentie nominalizata
Marti, 17 Iunie 2014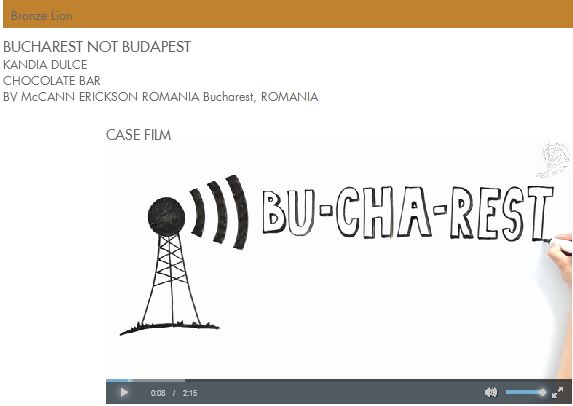 Kandia Dulce, ROM, "Bucharest, not Budapest"

sursa: Cannes Lions

adplayers. Iulian Toma
Asa cum spuneam si intr-un articol publicat ieri, pe 16 iunie, chiar atunci cand pe scena Effie defila eficienta, pe cea de la Cannes Lions urca primul Leu castigat de Romania la cel mai important festivaluri de marketing si comunicare din lume.

Trofeul a fost acordat McCann Erickson pentru campania ROM, "Bucharest not Budapest" in categoria Promo & Activation, dintr-un total de 14 nominalizari care au curs pentru agentia romaneasca numai pana ieri.

Si o stire la fel de proaspata. Publicis Romania este a doua agentie romaneasca nominalizata la Cannes Lions cu doua intrari.

Vedeti mai jos descrierea si ce impact a avut campania Rom care a luat primul Leu de Bronz pentru Romania la Cannes Lions 2014:
Kandia Dulce, ROM, "Bucharest, not Budapest"
DESCRIEREA CAMPANIEI
sursa: Cannes Lions
DESCRIBE THE BRIEF FROM THE CLIENT

Rom chocolate bar is a national icon that champions the revival of national pride. In a category where all competitors have a sustained ATL communication, Rom is lacking the financial strength for year-round ATL. Rom's strategy is to capitalize on flash activations that materialize Rom brand's mission – to support young Romanians' patriotic feeling in order to maintain and even increase their interest and attachment to the brand.

PROMOTION DEVELOPMENT

We placed city signs with "Bucharest, not Budapest" in the welcoming area of the Bucharest airport, triggering the media attention. Then, we gave Romanians the tools to join the campaign: an online tutorial explaining the confusion, a browser add-on that added "not Budapest" to every "Bucharest" on the page and T-shirts with anti-confusion messages.

RESULTS

The main hotels joined the cause welcoming their clients with ROM kits explaining the confusion and touristic guides organized "Bucharest, not Budapest" tours of the city.
The campaign didn't get unnoticed internationally and even the mayor of Bucharest joined the campaign explaining the confusion.)
The impact of the campaign in consumers mind showed in brand indicators: a 10% increase in spontaneous awareness, 14% increase in "favorite brand" and brand image attributes reaching all-time highs.

RELEVANCY TO PRODUCT/SERVICE

All started with a capital confusion: people mistake Bucharest, the capital or Romania with Budapest, the capital of the neighboring country, Hungary. For Romanians, the series of confusions are as painful as they are funny.
ROM, the chocolate bar that has "Bucharest" written all over it for over 50 years, was the most entitled to do something about it.
CREDITS
| | | |
| --- | --- | --- |
| Name | Company | Position |
| Adrian Botan | Bv Mccann Erickson | Creative Partner |
| Nir Refuah | MRM Worldwide Romania | Chief Innovation Officer |
| Catalin Dobre | Bv Mccann Erickson | Executive Creative Director |
| Sebastian Olar | Bv Mccann Erickson | Copywriter |
| Danna Blum Sartori | Freelancer | Copywriter |
| Cristina Tatar | MRM Worldwide Romania | Copywriter |
| Arpad Rezi | Bv Mccann Erickson | Art Director |
| Vlad Macarie | MRM Worldwide Romania | Art Director |
| Adrian Constantin | Bv Mccann Erickson | Digital Creative Planner |
| Ionela Buta | MRM Worldwide Romania | Account Director |
| Ana Maria Ionita | Bv Mccann Erickson | Account Director |
| Alina Carasol | Bv Mccann Erickson | Media Manager |
| Carmen Bistrian | Bv Mccann Erickson | Corporate Pr Manager |
| Andra Constantin | Bv Mccann Erickson | Account Executive |
| Laura Boboc | MRM Worldwide Romania | Content Manager |
| Alina Marin | MRM Worldwide Romania | Account Manager |
Mai mult in
Festival
Alte articole din Eveniment:
»
»
»
»
»
»
»
»
»
»