Effie Awards nu-si recunoaste castigatorii
Vineri, 11 Iunie 2010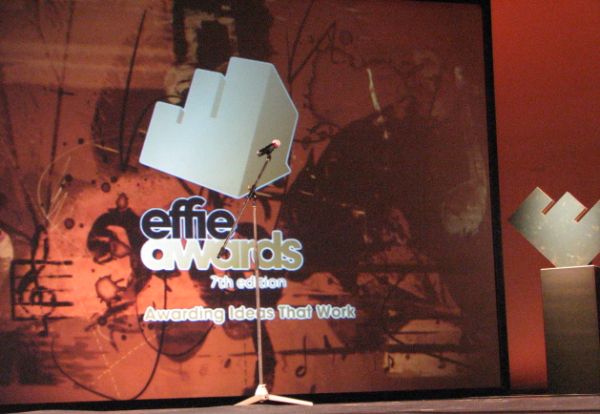 (AdPlayers, Iulian Toma)

IAA si-a prezentat aseara castigatorii Effie 2010, intr-un eveniment organizat de Millenium Communications. Gala si petrecerea Effie au fost organizate destul de bine pentru conditiile prin care trece intreaga economie romaneasca. Din pacate Effie nu si-a facut treaba in alta parte.

Castigatorii?
"CAP, GMP, Graffiti BBDO, Headvertising, Leo Burnett & Target, McCann Erickson, Next Advertising, Odyssey, Papaya Advertising, Propaganda sunt premiantii editiei 2010" spune comunicatul de presa al festivalului. Sa fie oare adevarat?

Total gresit. AdPlayers o spune in fiecare an chiar prin vocea oficialilor IAA. E drept ca un caz a scos bani din buzunarul unei agentii pentru a inscrie o campanie, dar in spatele eficientei unei campanii stau mai multe. Clientul cu intregul aparat de marketing si distributie, PR, agentie de evenimente, agentii de media, oameni care si-au stricat ochii privind cercetari si strategii de 10 sau chiar 20 de ani.

Atunci cine are interesul sa ii prezinte drept premianti pe doar o parte din cei carora li se cuvin meritele? Inca n-am aflat. Agentiile prezentate drept "premiate" au semnat strategia si creatia, iar in unele cazuri chiar si media campaniilor. Insa din pacate, daca vrem sa vorbim in litera legii de la Effie, lucrurile stau foarte diferit. Toate companiile si resursele puse la picioarele serviciilor unui caz sunt "vinovate"de succes.
Este oare corect ca, in schimbul a 1000 EUR cat costa inscrierea, sa nu fie recunoscuti toti catigatorii pentru a li se recunoaste meritele pe scena? De ce o fi asa greu de premiat eforturile tuturor? Nu stim. Tot ce stim este ca atata vreme cat nu-i nominalizeaza pe toti, Effie Awards nu-si recunoaste castigatorii.
Limba noastra-i o comoara
Toata lumea stie deja castigatorii Effie 2010 din comunicatul de presa al festivalului, insa putini sunt aceia care identifica si campaniile. Si asta pentru ca, de ani buni, toate categoriile de concurs si premiile sunt prezentate unui public roman in limba engleza, fara cel mai mic respect pentru majoritatea publicului din sala vorbitor de limba romana.

Effie este un festival cu licenta de la AMA New York. Dar ce vina are publicul roman ca sa ia dictionarul in mana pentru traducerea categoriilor? Intr-o tara in care este adevarat ca Eminescu se vinde mai greu printre rafturile din hypermarket, este normal sa vorbim pe scena in limba engleza pentru o economie de 20 perechi de casti si o comunicare atat in engleza cat si in romana?

De ce nu stim juriul fiecarei categorii?

Pentru cine nu stie, cei aproximativ 80 de membri ai juriului n-au trecut fiecare peste toate lucrarile. Toti membrii juriului au venit la IAA House marti in doua etape - aproximativ jumatate dimineata si jumatate dupa amiaza, iar fiecare etapa a impartit marele juriu in 4 sali si paneluri de jurizare mai mici.

De ce nu stim cine a fost intr-un panel si ce a jurizat nici pana astazi? Daca asa spune regulamentul Effie de la AMA New York, atunci poate ar trebui sa spuna si cati oameni ar trebui sa aiba un panel, cum s-au impartit juratii intre cele 4 sali de la IAA House, dar tot nu se intelege de c-am vedea cine sunt membrii fiecarui panel care au jurizat o categorie. De fapt, asa-zisa transparenta a membrilor juriului nu este decat un steag pe care festivalul si-l flutura degeaba.

Oamenii sunt inzestrati cu competente, dar nu toata lumea are aceeasi experienta pe piata. Prin urmare echilibrarea panelurilor este o treaba care nu priveste numai Comitetul de Organizare si doar onorarea oamenilor de marketing si publicitate cu titlu de "membru in juriul Effie". Acest lucru ar trebui sa aduca in egala masura si asumarea unei responsabilitati a voturilor. De ce n-am avea curaj sa spunem cine si ce-a votat ? Poate pentru ca am gasi in juriu si niste oameni poate prea tineri in marketingul unor clienti sau agentii pentru a duce povara unui vot?

Winners Effie 2010
Category: FOOD PRODUCTS I
BRONZE
Campaign title: The Taste of Great Memories
Brand: Maggi Secretul Gustului Intensavor
Submitted by: BV McCann Erickson
BRONZE
Campaign title: Country Food
Brand: Sadu
Submitted by: Graffiti BBDO
Category: FOOD PRODUCTS I
SILVER
NO WINNER
Category: FOOD PRODUCTS I
GOLD
Campaign title: Reason to Rest
Brand: Napolact
Submitted by: Propaganda
Category: FOOD PRODUCTS II
NOMINEE
Campaign title: Dare!
Brand: Joe
Submitted by: Scala JWT
Category: FOOD PRODUCTS II
BRONZE
NO WINNER
Category: FOOD PRODUCTS II
SILVER
NO WINNER
Category: FOOD PRODUCTS II
GOLD
NO WINNER
Category: NON-PROFIT PRO BONO/PUBLIC SERVICE, SOCIAL CAMPAIGNS
BRONZE
Campaign title: Cherish Knowledge
Brand: Fundatia Dinu Patriciu
Submitted by: Odyssey Communication
Category: NON-PROFIT PRO BONO/PUBLIC SERVICE, SOCIAL CAMPAIGNS
SILVER
Campaign title: A Chance for Life
Brand: React
Submitted by: Graffiti BBDO
Category: NON-PROFIT PRO BONO/PUBLIC SERVICE, SOCIAL CAMPAIGNS
GOLD
NO WINNER
Category: MEDIA AND ENTERTAINMENT
BRONZE
Campaign title: Share Dolce
Brand: Romtelecom Dolce
Submitted by: Graffiti BBDO
Category: MEDIA AND ENTERTAINMENT
SILVER
NO WINNER
Category: MEDIA AND ENTERTAINMENT
GOLD
NO WINNER
Category: DURABLES
NOMINEE
Campaign title: No Matter What Guarantee
Brand: Toshiba
Submitted by: BV McCann Erickson
Category: DURABLES
BRONZE
Campaign title: Unbeatable Price
Brand: Dacia
Submitted by: Graffiti BBDO
Category: DURABLES
SILVER
NO WINNER
Category: DURABLES
GOLD
NO WINNER
Category: CORPORATE REPUTATION, IMAGE & IDENTITY
NOMINEE
Campaign title:Money School
Brand: BCR
Submitted by: Tempo Advertising
Category: CORPORATE REPUTATION, IMAGE & IDENTITY
BRONZE
NO WINNER
Category: CORPORATE REPUTATION, IMAGE & IDENTITY
SILVER
Campaign title:
Common Sense and Responsibility
Brand: Petrom
Submitted by: Leo Burnett & Target
Category: CORPORATE REPUTATION, IMAGE & IDENTITY
GOLD
Campaign title:
Great People behind Great People
Brand: BRD-Groupe Société Générale
Submitted by: Propaganda
Category: NON FOOD PRODUCTS
NOMINEE
Campaign title:
A Fuel Tank Every 15 Minutes
Brand: Petrom
Submitted by: Leo Burnett & Target
Category: NON FOOD PRODUCTS
BRONZE
NO WINNER
Category: NON FOOD PRODUCTS
SILVER
Campaign title:
Aspargilius - Bathroom and Kitchen
Brand: Savana Teflon
Submitted by: Papaya Advertising
Category: NON FOOD PRODUCTS
GOLD
Campaign title: House of Fun
Brand: Herbal Essences
Submitted by: Leo Burnett & Target
Category: TELECOMMUNICATIONS: INTERNET AND DATA
NOMINEE
Campaign title: ClickNet Job
Brand: Romtelecom ClickNet
Submitted by: Graffiti BBDO
Category: TELECOMMUNICATIONS: INTERNET AND DATA
BRONZE
NO WINNER
Category: TELECOMMUNICATIONS: INTERNET AND DATA
SILVER
NO WINNER
Category: TELECOMMUNICATIONS: INTERNET AND DATA
GOLD
NO WINNER
Category: TELECOMMUNICATIONS: VOICE OFFERS
NOMINEE
Campaign title: Coverage
Brand: Cosmote
Submitted by: Ogilvy & Mather Romania
Category: TELECOMMUNICATIONS: VOICE OFFERS
BRONZE
NO WINNER
Category: TELECOMMUNICATIONS: VOICE OFFERS
SILVER
NO WINNER
Category: TELECOMMUNICATIONS: VOICE OFFERS
GOLD
NO WINNER
Category: NON-ALCOHOLIC BEVERAGES
NOMINEE
Campaign title:
Fanta Shokata re-launch: Shockingly Romanian
Brand: Fanta
Submitted by: BV McCann Erickson
NOMINEE
Campaign title: Happy Coffee
Brand: Nescafé
Submitted by: Mercury 360
Category: NON-ALCOHOLIC BEVERAGES
BRONZE
NO WINNER
Category: NON-ALCOHOLIC BEVERAGES
SILVER
NO WINNER
Category: NON-ALCOHOLIC BEVERAGES
GOLD
NO WINNER
Category: DAVID VS GOLIATH
NOMINEE
Campaign title: The Muller World
Brand: Muller
Submitted by: Graffiti BBDO
NOMINEE
Campaign title:
Aspargilius - Bathroom and Kitchen
Brand: Savana Teflon
Submitted by: Papaya Advertising
Category: DAVID VS GOLIATH
BRONZE
NO WINNER
Category: DAVID VS GOLIATH
SILVER
NO WINNER
Category: DAVID VS GOLIATH
GOLD
NO WINNER
Category: FINANCIAL SERVICES
NOMINEE
Campaign title: Twice a Winner
Brand: Alpha Bank
Submitted by: DDB Bucharest
Category: FINANCIAL SERVICES
BRONZE
Campaign title: Bumper Cars Reloaded
Brand: UniCredit Tiriac Bank
Submitted by: Headvertising
Category: FINANCIAL SERVICES
SILVER
Campaign title: 6 Horses
Brand: Banca Transilvania
Submitted by: Next Advertising
SILVER
Campaign title: Meeting Your Interest
Brand: CEC Bank
Submitted by: Papaya Advertising
Category: FINANCIAL SERVICES
GOLD
NO WINNER
Category: ALCOHOLIC BEVERAGES: BEERS AND WINES
BRONZE
Campaign title: "1 Million RON" Bottle
Brand: Murfatlar
Submitted by: Next Advertising & CAP
Category: ALCOHOLIC BEVERAGES: BEERS AND WINES
SILVER
NO WINNER
Category: ALCOHOLIC BEVERAGES: BEERS AND WINES
GOLD
Campaign title: The Story Goes On
Brand: Timisoreana
Submitted by: GMP Advertising
Category: SUSTAINED SUCCES
BRONZE
Campaign title: Cooking With All Your Heart
Brand: Maggi
Submitted by: BV McCann Erickson
Category: SUSTAINED SUCCES
SILVER
NO WINNER
Category: SUSTAINED SUCCES
GOLD
Campaign title: As it used to be
Brand: Napolact
Submitted by: Propaganda
GRAND EFFIE NOMINEES
Campaign title: The Story Goes On
Brand: Timisoreana
Submitted by: GMP Advertising
Campaign title: House of Fun
Brand: Herbal Essences
Submitted by: Leo Burnett Romania
Campaign title:
Great People behind Great People
Brand: BRD-Groupe Société Générale
Submitted by: Propaganda
Campaign title: Reason to Rest
Brand: Napolact
Submitted by: Propaganda
GRAND EFFIE
Campaign title: The Story Goes On
Brand: Timisoreana
Submitted by: GMP Advertising
Alte articole din Eveniment:
»
»
»
»
»
»
»
»
»
»