IAA Worldwide a anuntat o noua identitate si noul iaaglobal.org
Luni, 18 Iunie 2007

(AdPlayers.ro, Iulian Toma)
International Advertising Association (IAA) si-a anuntat o noua identitate de corporatie, se arata intr-un comunicat remis AdPlayers de catre oficialii organizatiei mondiale cu sediul central la New York.
Anuntul coincide cu intalnirea Comitetului Executiv si a Bordului de Directori din care face parte si Felix Tataru - Presedintele IAA Romania, eveniment ce a avut loc la festivalul de publicitate de la Cannes pe 17 si 18 iunie.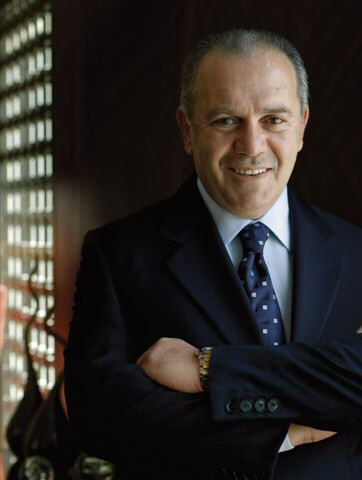 Potrivit lui Joseph Ghossoub (foto), Chairman and World President al IAA, noua identitate este deopotriva proaspata si contemporana. "Noul nostru slogan – Inspiring Excelence in Communications Worldwide se potriveste cu siguranta dorintei noastre de a evolua in tandem cu industria", continua Joseph Ghossoub.
Potrivit sursei citate, noua identitate este rezultatul mai multor luni de lucru si a fost creat cu asitenta unei echipe voluntare de la Team Y&R sub coordonarea lui Sharif Abu Khadra, Vice President of Communications, IAA.
Organizatia a pus la dispozitia celor 56 de filiale resursele care vor asigura trecerea treptata la noua identitate. IAA Worldwide a creat un CD instrument pentru a face posibil utilizarea imediata a noii identitati pentru toate cele 56 de filiale.
Proiectul de rebrandingul IAA va include toate platformele de comunicare, inclusiv relansarea noului website al organizatiei www.iaaglobal.org .
iaaglobal.org versus iaa.ro
Interesant ar fi de remarcat ca , spre deosebire de filiala autohtona IAA Romania, organizatia IAA Globala nu acorda, cel putin pana acum, o importanta deosebita funizarii de continut media online propriu, decat in limita unei comunicari publice a organizatiei si a preluarii unor informatii din alte pagini de specialitate din media, nu putine, si nu mai putin celebre.
Si sa nu uitam ca printre Membrii Corporate ai IAA cu sediul central la New York care primesc astfel de selectii din presa de specialitate se numara furnizori de continut media de prestigiu cum ar fi The Economist, Financial Times, The Wall Street Journal, Advertising Age, Hearst Corporation sau AdForum.
Organizatia globala acorda insa un interes deosebit comunicarii intre asociatie si celelalte canale media de profil internationale, in paginile carora IAA este interesata sa promoveze actiunile asociatiei.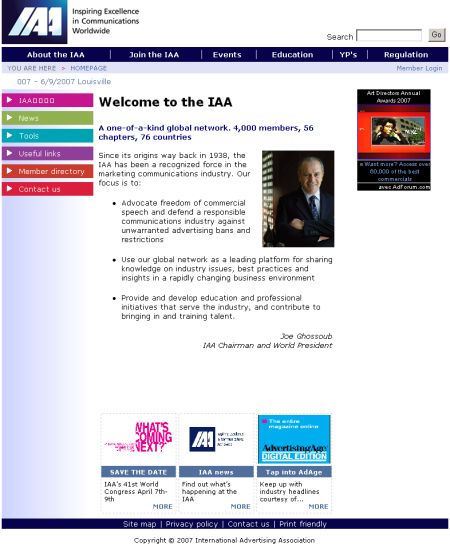 AdPlayersFile International Advertising Association (IAA)
Cu sediul central al New York, International Advertising Association (IAA) a fost fondata in 1938 si are in prezent 56 de filiale in 76 de tari din intreaga lume, inclusiv Romania. (www.iaaglobal.org)
International Advertising Association Corporate Members
Company / Country / Website
Aaron Lloyd, JSC Russia www.aall.ru
Ace Worldwide Advertising United Arab Emirates www.aceworldwide.ae
AdForum United States www.adforum.com
Al Ahram Organization Egypt Al Sidra Publishing-
7 Days United Arab Emirates www.7days.ae
Arab Advertising Organization Syria Aujan Industries United Arab Emirates www.aujan.com
Bartle Bogle Hegarty Ltd. United Kingdom www.bbh.co.uk
BBDO United States www.bbdo.com
BPA International United States www.bpaww.com
Bridges Marketing & Communication Co. Saudi Arabia www.bridgescom.com
British American Tobacco-Russia Russia www.bat.com
Crain Communications United States www.crain.com
DDB Worldwide Communications Group United States www.ddb.com
Dentsu Inc. Japan www.dentsu.co.jp
Dentsu Tec Inc. Japan www.dentsutec.co.jp
Dogan Yayin Holding Turkey www.dmg.com.tr
DOM International United Arab Emirates www.dom.ae
Dow Jones & Company United States www.dowjones.com
Draftfcb United States www.draftfcb.com
Euro RSCG Worldwide United States www.eurorscg.com
European Media Group Russia Financial Times United Kingdom www.ft.com
Global Advertising Strategies United States www.ethnicUSA.com
Grey Global Group United Kingdom www.greyglobalgroup.com
Hakuhodo Incorporated Japan www.hakuhodo.co.jp
Hearst Magazines International United States www.hearst.com
Hypermedia FZ L.L.C. United Arab Emirates
IDG Global Solutions United States www.idg.com
JSC Advertising Group Vitrina A Russia www.vitrina.ru
Kokokusha Co. Ltd. Japan www.kokokusha.co.jp
Leo Burnett Worldwide, Inc. United States www.leoburnett.com
Lowe Worldwide United States www.loweworldwide.com
McCann WorldGroup United States www.mccann.com
MTV Networks Latin America United States www.mtv.com
Nestec Ltd. Switzerland www.nestle.com
Nifco/The Japan Times Ltd. Japan www.nifco.co.jp
Nikkei Inc. Japan www.nni.nikkei.co.jp
octOpus Advertising United Arab Emirates www.octopusme.com
Sesame Workshop United States www.sesameworkshop.org
Shell Brands International AG Switzerland www.shell.com
The Asahi Shimbun Japan www.asahi.com
The Boeing Company United States www.boeing.com
The Economist Newspaper Ltd. United Kingdom www.economist.com
The Gillette Company United States www.gillette.com
The Holding Group United Arab Emirates
The Ogilvy Group United States www.ogilvy.com
The Procter & Gamble Company United States www.pg.com
Time International United States www.timeinc.com
TriGranit Hungary www.trigranit.hu
Unilever Plc United Kingdom www.unilever.com
Video International Group Russia
Y&R Brands United States www.yrbrands.com
Alte articole din Business:
»
»
»
»
»
»
»
»
»
»