Spotlight pe lista scurta la Care Awards 2009 organizata de EACA
Marti, 07 Aprilie 2009
(AdPlayers.ro, Irina Toma)

Spotlight a fost nominalizata in finala competitiei Care Awards 2009 organizata de European Association of Communications Agencies (EACA). Agentia de publicitate a intrat pe lista scurta a intrecerii la categoria Local and Regional Authorities cu campania "Sa pastram Apele Curate" dezvoltata pentru Administratia Nationala "Apele Romane".
Comunicarea s-a desfasurat pe parcursul anului 2008 si a avut ca scop informarea si educarea publicului cu privire la efectele poluarii apelor iar rezultatul a constat in strangerea a 500 de tone de PETsti si meDOZE.
EACA Care Awards isi propune sa rasplateasca campaniile de marketing social, promovand campaniile de responsabilitate sociala din Europa si sprijinind initiativele care aduc in prim-plan grija pentru oameni, resurse si mediu.
Parte a retelei globale ICOM, Spotlight este o agentie de publicitate full-service, infiintata in 1999. Printre clientii agentiei se numara: Jidvei, Elmiplant, Fares, IFB Finwest, JW Marriott, Kolo, UPC, Fonomat, Administratia Nationala "Apele Romane".

Mai jos lista completa a finalistilor competitiei EACA care Awards, conform website-ului EACA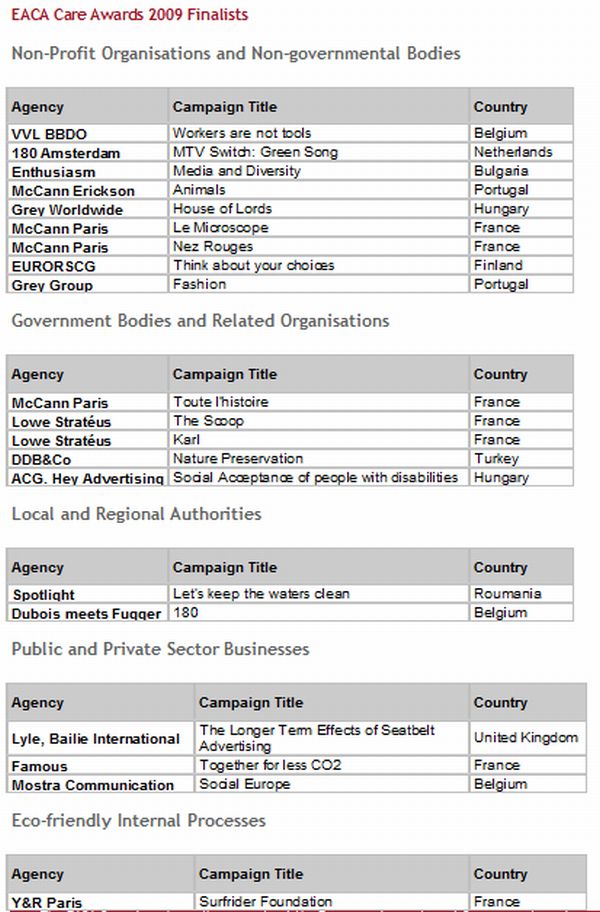 Alte articole din Eveniment:
»
»
»
»
»
»
»
»
»
»